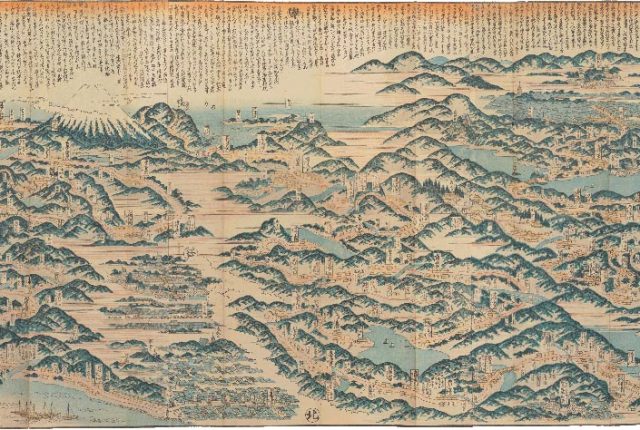 Date/Time
Friday, February 2, 2024
10:00 am – 5:00 pm
Location
William Andrews Clark Memorial Library
2520 Cimarron Street
Conference organized by Kristopher W. Kersey, University of California, Los Angeles
The highly urbanized nature of the Edo period—with its three metropolises of Osaka, Kyoto, and Edo—resulted in massive changes to the natural and built environments. The bustling economies of these cities fueled wide-reaching networks of production, trade, and environmental exploitation. The concept of nature itself, as well as the iconography of natural history, were likewise in flux. Accordingly, this conference seeks papers that will contribute to the emergent discourse of ecological art history by directing attention to the material and ecological horizons of early modern Japanese art. What were the aesthetics of environmental exploitation? How were industry and labor depicted? What were the religious perspectives on ecological manipulation? How were materiality and ecology themselves conceived? Where is the intersection of ecological ethics and artistic production?
Speakers
Chelsea Foxwell, University of Chicago
Greg Levine, University of California, Berkeley
Yukio Lippit, Harvard University
Matthew P. McKelway, Columbia University
Rachel Saunders, Harvard Art Museums
---
About Open Edo: Diverse, Ecological, and Global Perspectives on Japanese Art, 1603–1868
The art of Japan's Edo period (1603–1868) presents a paradox. On the one hand, the nineteenth-century proliferation of ukiyo-e—polychrome woodblock prints of the "floating words" of theater and sex work—made the popular visual culture of this city a familiar component of modern art in the nineteenth and twentieth centuries. Yet the outsize fascination with ukiyo-e outside Japan has sorely obscured Edo's far more diverse social, material, and artistic landscapes. In an effort to countervail the enduring stereotypes of early modern Japanese art, Open Edo will present a suite of conferences addressing three interlinked themes: the representation and agency of marginalized groups, the ecological horizons of artistic production, and the ongoing need to counter the myth that Japan in early modernity was somehow disconnected from the rest of the world. Throughout the year-long series, the focus will be both historical and historiographical inasmuch as Open Edo asks how Japanese art history might challenge the discourse of early modernity writ large.
---
The conference is free to attend with advance registration, and will be held in-person at the Clark Library. Registration form will post here approximately one month in advance of the program. In-person registration will close on Monday, January 29 at 5:00 p.m. Seating is limited at the Clark Library; walk-in registrants are welcome as space permits.
---
Image: Panoramic Map of the Tōkaidō Highway. Shōtei Kinsui, drawn by Kuwagata (better known as Keisai). Published by Sanoya Ichigorō, Izumiya Hanbei, and Izumoji Manjirō, n.d. (likely 1810). Polychrome xylography, 52 x 24 inches. Richard C. Rudolph Collection of Japanese Maps, Special Collections, UCLA Library.