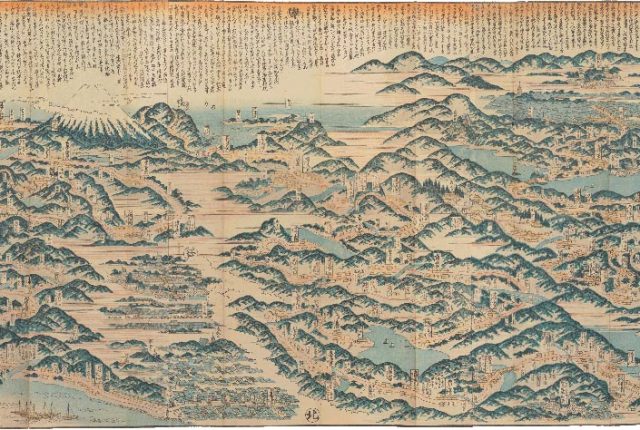 Date/Time
Friday, April 19, 2024
10:00 am – 5:00 pm
Location
William Andrews Clark Memorial Library
2520 Cimarron Street
Conference organized by Kristopher W. Kersey, University of California, Los Angeles
To this day, many mistake Japan for a culturally homogenous society, yet this nationalistic myth is far from the truth. In an effort to underscore the diversity of early modern Japan, this conference will direct attention to two groups who are often marginalized if not absent in narratives of early modern Japanese art. To the south are the Ryūkyūans, whose Kingdom of Ryūkyū was reduced in the Edo period to a vassal state. To the north are the Ainu, an indigenous society progressively dispossessed of its lands throughout Japanese history. Recent anniversaries—the 150th anniversary of settler colonialism in Hokkaidō and the fiftieth anniversary of the reversion of the Ryūkyūs from the USA to Japan—have brought renewed critical attention to the art of these two groups. While much scholarship on Ryūkyūan and Ainu art has focused on modernity, this conference seeks to shift the focus deeper in the archive, to the seventeenth to eighteenth centuries.
Speakers
Monika Bincsik, The Metropolitan Museum of Art
Melissa McCormick, Harvard University
Eriko Tomizawa-Kay, University of East Anglia and University of Michigan
Additional speakers to be announced
---
About Open Edo: Diverse, Ecological, and Global Perspectives on Japanese Art, 1603–1868
The art of Japan's Edo period (1603–1868) presents a paradox. On the one hand, the nineteenth-century proliferation of ukiyo-e—polychrome woodblock prints of the "floating words" of theater and sex work—made the popular visual culture of this city a familiar component of modern art in the nineteenth and twentieth centuries. Yet the outsize fascination with ukiyo-e outside Japan has sorely obscured Edo's far more diverse social, material, and artistic landscapes. In an effort to countervail the enduring stereotypes of early modern Japanese art, Open Edo will present a suite of conferences addressing three interlinked themes: the representation and agency of marginalized groups, the ecological horizons of artistic production, and the ongoing need to counter the myth that Japan in early modernity was somehow disconnected from the rest of the world. Throughout the year-long series, the focus will be both historical and historiographical inasmuch as Open Edo asks how Japanese art history might challenge the discourse of early modernity writ large.
---
The conference is free to attend with advance registration, and will be held in-person at the Clark Library. Registration form will post here approximately one month in advance of the program. In-person registration will close on Monday, April 15 at 5:00 p.m. Seating is limited at the Clark Library; walk-in registrants are welcome as space permits.
---
Image: Panoramic Map of the Tōkaidō Highway. Shōtei Kinsui, drawn by Kuwagata (better known as Keisai). Published by Sanoya Ichigorō, Izumiya Hanbei, and Izumoji Manjirō, n.d. (likely 1810). Polychrome xylography, 52 x 24 inches. Richard C. Rudolph Collection of Japanese Maps, Special Collections, UCLA Library.