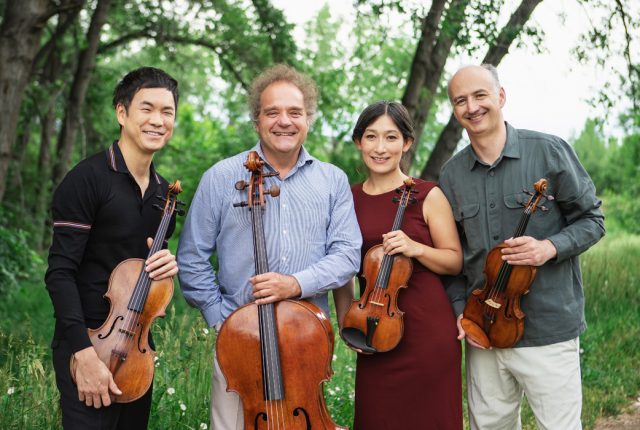 Date/Time
Sunday, December 10, 2023
2:00 pm – 4:00 pm
Location
William Andrews Clark Memorial Library
2520 Cimarron Street
Seats will be available for purchase on Tuesday, November 7 at 12:00 p.m. noon, via the following link. General admission seats are $40, and UCLA student seats (for UCLA students only, valid UID for each student required) are $10. Seating at the Clark Library is limited. To receive announcements when concert seats go on sale, please sign up for our mailing list.

While we do not maintain a wait list, we do offer same day stand-by seating for all Chamber Music at the Clark concerts. For more information on stand-by seating, please see here
---
Program
Béla Bartók (1881–1945)
String Quartet No. 2, Op. 17, Sz. 67
String Quartet No. 4, Sz. 91
String Quartet No. 6, Sz. 114
Takács Quartet
Edward Dusinberre, violin
Harumi Rhodes, violin
Richard O'Neill, viola
András Fejér, cello
The world-renowned Takács Quartet is now entering its forty-ninth season. Edward Dusinberre, Harumi Rhodes (violins), Richard O'Neill (viola) and András Fejér (cello) are excited about the 2023-2024 season that features varied projects including a new work written for them. Nokuthula Ngwenyama composed "Flow," an exploration and celebration of the natural world. The work was commissioned by nine concert presenters throughout the USA. July sees the release of a new recording of works by Samuel Coleridge-Taylor and Dvořák for Hyperion Records, while later in the season the quartet will release works by Schubert including his final quartet in G major. In the Spring of 2024 the ensemble will perform and record piano quintets by Price and Dvořák with long-time chamber music partner Marc-Andre Hamelin.
As Associate Artists at London's Wigmore Hall, the Takács Quartet will perform four concerts featuring works by Hough, Price, Janacek, Schubert, and Beethoven. During the season, the ensemble will play at other prestigious European venues including Berlin, Geneva, Linz, Innsbruck, Cambridge, and St. Andrews. The Takács Quartet will also appear at the Adams Chamber Music Festival in New Zealand. The group's North American engagements include concerts in New York, Boston, Philadelphia, Baltimore, Washington DC, Vancouver, Ann Arbor, Phoenix, Berkeley, Los Angeles, Portland, Cleveland, Santa Fe, and Stanford. The ensemble will perform two Bartók cycles at San Jose State University and Middlebury College and appear for the first time at the Virginia Arts Festival with pianist Olga Kern.
The members of the Takács Quartet are Christoffersen Fellows and Artists in Residence at the University of Colorado, Boulder. For the 23-24 season, the quartet enter into a partnership with El Sistema Colorado, working closely with its chamber music education program in Denver. During the summer months, the Takács join the faculty at the Music Academy of the West, running an intensive quartet seminar.
In 2021 the Takács won a Presto Music Recording of the Year Award for their recordings of string quartets by Fanny and Felix Mendelssohn, and a Gramophone Award with pianist Garrick Ohlsson for piano quintets by Amy Beach and Elgar. Other releases for Hyperion feature works by Haydn, Schubert, Janáček, Smetana, Debussy, and Britten, as well as piano quintets by César Franck and Shostakovich (with Marc-André Hamelin), and viola quintets by Brahms and Dvorák (with Lawrence Power). For their CDs on the Decca/London label, the Quartet has won three Gramophone Awards, a Grammy Award, three Japanese Record Academy Awards, Disc of the Year at the inaugural BBC Music Magazine Awards, and Ensemble Album of the Year at the Classical Brits. Full details of all recordings can be found in the Recordings section of the Quartet's website.
The Takács Quartet is known for its innovative programming. In 2021-22 the ensemble partnered with bandoneon virtuoso Julien Labro to premiere new works by Clarice Assad and Bryce Dessner, commissioned by Music Accord. In 2014 the Takács performed a program inspired by Philip Roth's novel Everyman with Meryl Streep at Princeton, and again with her at the Royal Conservatory of Music in Toronto in 2015. They first performed Everyman at Carnegie Hall in 2007 with Philip Seymour Hoffman. They have toured 14 cities with the poet Robert Pinsky, and played regularly with the Hungarian Folk group Muzsikas.
In 2014 the Takács Quartet became the first string quartet to be awarded the Wigmore Hall Medal. In 2012, Gramophone announced that the Takács Quartet was the first string quartet to be inducted into its Hall of Fame. The ensemble also won the 2011 Award for Chamber Music and Song presented by the Royal Philharmonic Society in London.
The Takács Quartet was formed in 1975 at the Franz Liszt Academy in Budapest by Gabor Takács-Nagy, Károly Schranz, Gabor Ormai, and András Fejér, while all four were students. The group received international attention in 1977, winning First Prize and the Critics' Prize at the International String Quartet Competition in Evian, France. The Quartet also won the Gold Medal at the 1978 Portsmouth and Bordeaux Competitions and First Prizes at the Budapest International String Quartet Competition in 1978 and the Bratislava Competition in 1981. The Quartet made its North American debut tour in 1982. Members of the Takács Quartet are the grateful beneficiaries of an instrument loan by the Drake Foundation.
June 2023.
The Takács Quartet appears by arrangement with Seldy Cramer Artists, and records for Hyperion and Decca/London Records.
The Takács Quartet is Quartet-in-Residence at the University of Colorado in Boulder and are Associate Artists at Wigmore Hall, London.
https://www.takacsquartet.com/
---
Chamber Music at the Clark
Professor Rogers Brubaker, Artistic Director
Chamber Music at the Clark is made possible by The Ahmanson Foundation; The Colburn Foundation; Martha Bardach; Catherine Glynn Benkaim, Ph.D. and Barbara Timmer; Dr. Rogers Brubaker; Patricia N. Chock; Dr. Susan Harris and Mark Harris; Judy Hellinger; Henry J. Bruman Endowment for Chamber Music; Dr. Sheldon H. Kardener and Monika Olofsson Kardener; Elaine and Bernie Mendes; Janet Minami; Bette I. and Jeffrey L. Nagin; Dr. Jeanne Robson; Carol E. Sandberg; Jackie Schwartz; Dr. Patricia Bates Simun and Mr. Richard V. Simun Memorial Fund; Patricia Waldron, M.D., and Richard Waldron; and Roberta and Robert Young.
Please see here for more information about our chamber music programs.
---
Photograph credit: Amanda Tipton, courtesy of the artists.