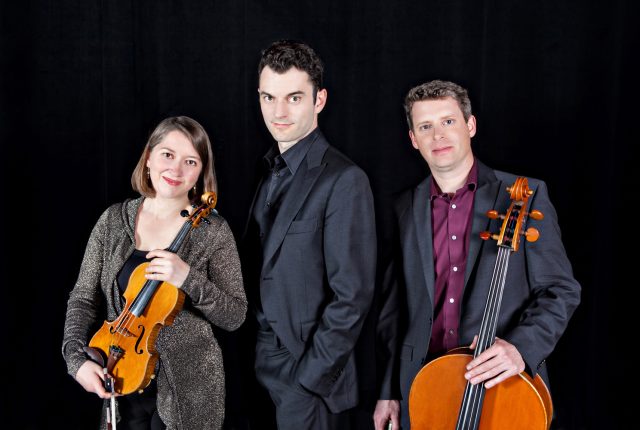 Date/Time
Wednesday, August 2, 2023
12:00 pm – 1:00 pm
Location
Lani Hall – The UCLA Herb Alpert School of Music
445 Charles E. Young Dr East, 2526 Schoenberg Music Building
Program
Wolfgang Amadeus Mozart (1756–1791)
Piano Trio in G Major, K. 564 (1788)
I. Allegro
II. Andante
III. Allegretto
Johannes Brahms (1833–1897)
Piano Quartet No. 1 in G Minor, Op. 25 (1861)
I. Allegro
II. Intermezzo: Allegro ma non troppo — Trio: Animato
III. Andante con moto
IV. Rondo alla Zingarese: Presto
with Ambroise Aubrun, viola
---
The Henry J. Bruman Summer Chamber Music Festival is being held this summer in Lani Hall, a 133-seat auditorium located in the Schoenberg Music Building on the UCLA campus. All concerts are free of charge, and no reservations are required. Seating is available on a first-come, first-served basis. Lot 2 is the closest campus parking lot; click here for full details on UCLA visitor parking, including campus parking maps and rates.
This year's Festival will be livestreamed on the Center's YouTube Channel. Please subscribe to our channel to be notified when the concerts go live.
---
The Felici Piano Trio
Rebecca Hang, violin
Brian Schuldt, cello
Steven Vanhauwaert, piano

The internationally renowned Felici Piano Trio has performed well over 400 concerts in Europe, South America, and the U.S. The ensemble has distinguished itself as a unique presence on the national music scene since coming to Mammoth Lakes as grantee of Chamber Music America's Rural Residencies Program, and as a California Arts Council (CAC) Touring Roster Ensemble.
Through Chamber Music Unbound, a nonprofit arts organization based in the Eastern Sierra, Felici presents a full winter concert season (Felici & Friends), as well as an international summer festival and associated academy (Unbound Chamber Music Festival and Sierra Academy of Music.) The ensemble members direct a year-round community music school serving local students in weekly group and individual lessons, and perform "Kids Concerts" for elementary, middle, and high schools. In addition, they teach music appreciation classes and chamber orchestra in collaboration with Cerro Coso College.
The Felici Trio was a recipient of a Creating Public Value grant from the California Arts Council (CAC), a three-year Artists-in-Residence grant, a Youth Education in the Arts grant and an Exemplary Grant.  In Germany, the ensemble has concertized under the auspices of the Kultursommer Festival, and appeared on 3SAT and ZDF television, as well as on German Southwest Radio (SWF).  Felici has recorded four CDs, Chamber Music of Women Composers, Tchaikovsky's Trio in A Minor, Beethoven's "Ghost" Trio & Brahms' Trio op. 87, and the Ravel Trio coupled with Saint-Saëns' opus 18.
About The Henry J. Bruman Summer Chamber Music Festival
Ambroise Aubrun, D.M.A., Artistic Director
The festival was founded in 1988 by Professor Henry J. Bruman (1913–2005), who sought to introduce new audiences to chamber music at informal concerts on the UCLA campus. The festival is made possible by the Henry J. Bruman Trust, Professors Wendell E. Jeffrey and Bernice M. Wenzel, by a gift in memory of Raymond E. Johnson, and with the support of the UCLA Center for 17th-& 18th-Century Studies.