Date/Time
Tuesday, February 27, 2018
4:00 pm – 5:00 pm
Location
Royce Hall, Room 306
10745 Dickson Plaza
Early Modern Cosmopolitanisms Lecture
—Erith Jaffe-Berg, University of California, Riverside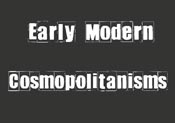 This lecture is presented as part of Early Modern Cosmopolitanisms, a lecture series hosted by Barbara Fuchs (University of California, Los Angeles) and Andrew Devereux (Loyola Marymount University) and sponsored by the UCLA Center for 17th- & 18th-Century Studies.
Early modern Italy provides an unprecedented context for creative exchanges among Jews, Muslims, and Christians through performance and theatre. In this presentation, Erith Jaffe-Berg introduces different ways in which representation and identity could be explored through performance. Examples are drawn from archival evidence taken from Venice and Mantua in Northern Italy.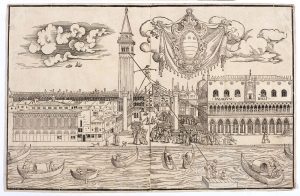 Early modern Italy set the stage for a set of unusual performance exchanges that took place between Christians, Jews, and Muslims. Christians sometimes viewed performances by Jewish actors; Muslim and Jewish musicians, actors, and acrobats performed alongside Christians; and Italian performance traditions were adopted by the Jewish community to create new theatrical performances in Hebrew. This lecture highlights a few of these instances and elaborates on the ways in which they reflected the various cultural sources from which they stemmed.
Specifically, the lecture addresses a performance form known as "Il Volo del Turco" (The flight of the Turk) which took place during the Venetian Carnival and appears to have involved Muslim Turkish performers. The lecture also considers performances by the Jewish community of Mantua sponsored by the actor and showman Shlumiel Basilea, a notable impresario in the community. His extravagant theatrical creation sheds light on the ways in which the community negotiated its own presence at a time of growing segregation and ghettoization.
These archival traces provide a much broader lens for viewing theatrical production and activity among a variety of language and cultural communities in the sixteenth and seventeenth century.
Erith Jaffe-Berg is a Professor and Chair of the Department of Theatre, Film and Digital Production at the University of California at Riverside. Her book publications include: Commedia dell' Arte and the Mediterranean: Charting Journeys and Mapping "Others" (Ashgate Publishing, 2015 & Routledge) and The Multilingual Art of Commedia dell'Arte (Legas, 2009). She is currently contributing to two anthology projects from Bloomsbury: A Cultural History of Theatre in the Middle Ages and A Cultural History of Tragedy in the Middle Ages. She is also working on a book about the Jewish contribution to theatre in Northern Italy.
Her articles have been published in various journals, including: Theatre Survey, The Journal of Dramatic Theory and Criticism, Early Theatre, Engramma, Medieval Encounters, Translation Perspectives, The European Studies Journal, il cannocchiale, Text and Presentation, Metamorphoses, Testuale Critica, Quaderni d'Italinistica, and in the anthologies International Dramaturgy: Translations & Transformations in the Theatre of Timberlake Wertenbaker (PIE-Peter Lang Press, 2008) and La terra di Babele: Saggi sul plurilinguismo nella cultura italiana, ed. Dario Brancato and Marisa Ruccolo (Legas, 2011).
She is a member of the Son of Semele Theatre Ensemble (SOSE), an Ovation award winning, LA-based theatre company. She is also a member of the global artist collective Moving Matters Traveling Workshop (http://movingmattersworkshops.ucr.edu/).
No registration is required.
Questions?
Contact Jeanette LaVere at jlavere@humnet.ucla.edu or 310-206-8552.