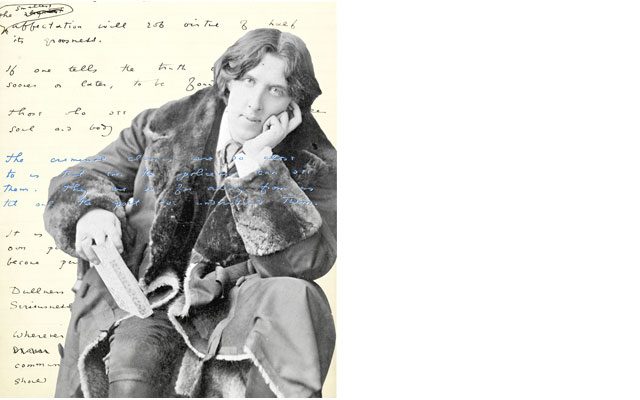 Date/Time
Wednesday, February 20, 2019
4:00 pm – 5:30 pm
Location
William Andrews Clark Memorial Library
2520 Cimarron Street
—lecture by Simon Stern (University of Toronto)
The legal dimensions of Wilde's writing and his life have often been explored through research on his trials; however, in his penchant for epigram and paradox, we might find another way to consider the legal dispositions of his work. Wilde's epigrams strive not so much to be true, as to reveal a kind of truth that the careful and measured cadences of argument, exposition, and evidence cannot. Similarly, the legal fiction (the fictio legis) produces a certain kind of truth, within the legal domain, that dispenses with these paradigmatically legal requirements. By placing various Wildean aphorisms in dialogue with legal fictions, we may find similar concerns with the importance of style and the power of artifice.
Simon Stern is Associate Professor of Law and English at the University of Toronto.  His recent and forthcoming publications include articles on authorship and copyright law in 18th century England, the narrative features of judicial opinions, and the ironized treatment of Victorian obscenity law in The Picture of Dorian Gray. He is co-editor of The Oxford Handbook of Law and Humanities (forthcoming in 2019) and, with Robert Spoo, he edits the book series Law and Literature for Oxford University Press.
This lecture is made possible by a generous endowment established in 2005 by Dr. William Zachs, scholar and antiquarian. The biennial series focuses on Wilde, his literary circle, and the decadent movement of the 1890s. It highlights the Clark's collection of Wilde material—the most comprehensive in the world—which includes autograph letters and drafts by Wilde and his circle, a nearly complete collection of printed editions of his works, photographs, original portraits, caricatures, playbills, and news cuttings.
---
Booking Form
Bookings are currently closed for this event.