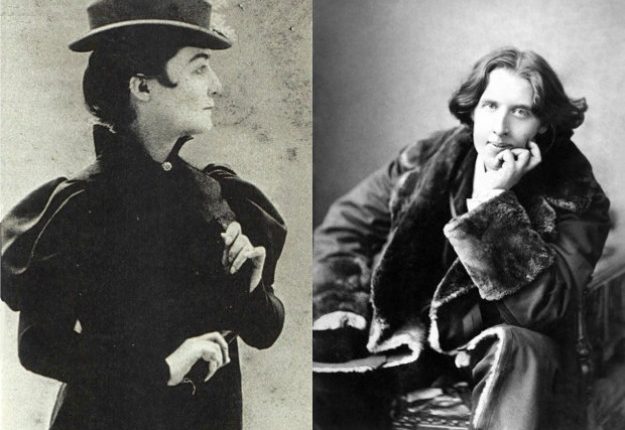 Date/Time
Wednesday, February 1, 2017
4:00 pm – 5:00 pm
Location
Royce Hall, Room 314
10745 Dickson Plaza
William Andrews Clark Lecture on Oscar Wilde
—Petra Dierkes-Thrun, Stanford University
This talk discusses the little-known literary and personal relations between Oscar Wilde and notorious French decadent writer, publisher, and salon hostess Rachilde (Marguerite Eymery-Vallette, 1860–1956), who played a crucial role in channeling Wilde's intellectual impact for the 20th century. Through her work at the Parisian literary magazine Mercure de France in the early 1890s, Rachilde provided Wilde with a network of avant-garde writers and journalists, including Wilde's longtime translator Henry Davray. The literary admiration between Rachilde and Wilde was mutual: traces of Rachilde's 1884 novel Monsieur Vénus can be found in a typescript of Wilde's The Picture of Dorian Gray held at the Clark, and Wilde's Salomé impacted Rachilde's own work in Symbolist theater and her novel La Jongleuse (1900). After Wilde's 1895 trials and death in 1900, Rachilde also wrote articles defending homosexual love, reviewed and advertised Wilde's work in the Mercure, and commissioned translations that helped recuperate Wilde's artistic reputation in France and beyond.
Petra Dierkes-Thrun is Lecturer in Comparative Literature and Director of Interdisciplinary Teaching and Learning at Stanford University. Recent publications include Salome's Modernity: Oscar Wilde and the Aesthetics of Transgression (University of Michigan Press, 2011) and articles on Wilde and Strauss, Mallarmé and Symons, Shaw, Rachilde, and Victoria Cross. A new essay collection entitled Wilde's Worlds (co-edited with Michael Davis) is currently under review. Dierkes-Thrun also serves as an advisory editor for gender and sexuality studies for boundary 2: an international journal of literature and culture and was the founding editor of the online journal The Latchkey: Journal of New Woman Studies (Rivendale Press).
---
This lecture is made possible by a generous endowment established in 2005 by Dr. William Zachs, scholar and antiquarian. The biennial series focuses on Wilde, his literary circle, and the decadent movement of the 1890s. It highlights the Clark's collection of Wilde material—the most comprehensive in the world—which includes autograph letters and drafts by Wilde and his circle, a nearly complete collection of printed editions of his works, photographs, original portraits, caricatures, playbills, and news cuttings.
---
Booking Form
Bookings are currently closed for this event.