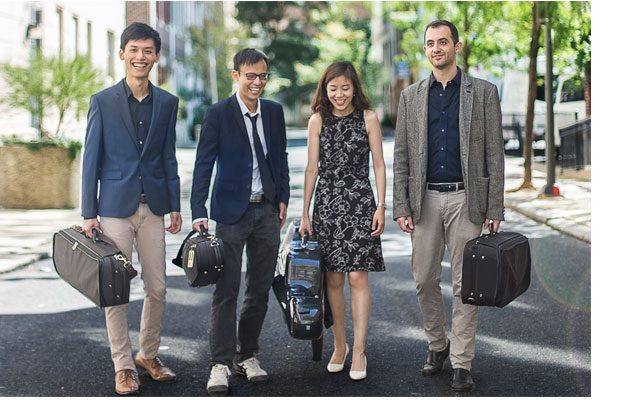 Date/Time
Sunday, November 19, 2017
2:00 pm – 4:00 pm
Location
William Andrews Clark Memorial Library
2520 Cimarron Street
Chamber Music at the Clark concert seating is determined via lottery. The booking-by-lottery entry form for Zorá String Quartet concert seats posts here on Thursday, September 21, 2017. Lottery registration closes Thursday, October 12, 2017.
Learn more about the booking-by-lottery system for securing Chamber Music at the Clark seats.
Zorá String Quartet
Dechopol Kowintaweewat, violin
Hsuan-Hao Hsu, violin
Pablo Muñoz Salido, viola
Zizai Ning, cello
The Zorá String Quartet, recently named "the future of chamber music" in a concert review in Oregon ArtsWatch, met while studying at Indiana University. After they had been playing together for one year, they became the Quartet-in-Residence at Indiana University in 2014. The quartet gained national attention in 2015 when they won three major awards: the Young Concert Artists International Auditions, the Grand Prize and Gold Medal of the Fischoff Chamber Music Competition, and the Coleman Chamber Music Competition in California.  As a result of winning the Fischoff Competition, they toured the Midwest and appeared at the 2016 Emilia Romagna Festival in Italy.  In 2016, they were honored as the Quartet-in-Residence at the Curtis Institute of Music.
Zorá String Quartet is represented by Young Concert Artists, Inc., www.yca.org
Photograph by Janice Carissa.
---
Program
Joseph Haydn (1732–1809)
String Quartet in B Minor, op. 33, no. 1
Allegro moderato
Scherzo: Allegro di molto
Andante
Finale: Presto
Hugo Wolf (1860–1903)
Serenade in G Major, Italian Serenade
Intermission
Johannes Brahms (1883–1897)
String Quartet in A Minor, op. 51, no. 2
Allegro non troppo
Andante moderato
Quasi Minuetto, moderato
Finale: Allegro non assai
Reception
---
Booking Form
Bookings are currently closed for this event.