Published: May 30, 2023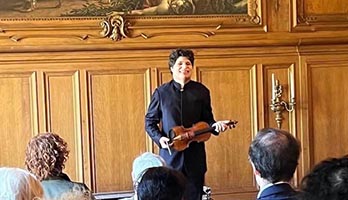 It was an honor hosting Augustin Hadelich on April 23 as our penultimate concert in the 2022-23 season of Chamber Music at the Clark.  William Andrews Clark Jr. was an accomplished violinist and founder of the Los Angeles Philharmonic, and one can be certain that Mr. Clark would've been delighted to have one of the great violinists of our time grace the Drawing Room stage.  Playing the violin "Leduc, ex-Szeryng" made by Giuseppe Guarneri del Gesú in 1744, Augustin Hadelich kept the audience captivated as he performed the following program:
Partita No. 3 in E Major for Solo Violin, BWV1006 by Johann Sebastian Bach
Blue/s Forms for Solo Violin by Coleridge-Taylor Perkinson
Sonata for Solo Violin, op. 27 no. 2 (Jacques Thibaud) by Eugène Ysaÿe
Partita No. 2 in D Minor for Solo Violin, BWV1004 by Johann Sebastian Bach
The enrapt audience was mesmerized with harmonies, yet there was only one violin. Observing Mr. Hadelich expertly wield a bow and dance his fingers over the strings was a sight to behold! Mr. Hadelich is consistently cited worldwide for his phenomenal technique, soulful approach, and insightful interpretations.
Born in Italy, the son of German parents, Augustin Hadelich is now an American citizen. He holds an Artist Diploma from The Juilliard School and has earned many medals and awards, including a Grammy in 2016. He is currently on the violin faculty of the Yale School of Music at Yale University.
We are thrilled to bring world-class ensembles and musicians like Augustin Hadelich to perform for you in the historic surroundings of the Clark's Drawing Room. Please be sure to sign up for our mailing list to receive updates about Chamber Music at the Clark 2023-24 season. We look forward to seeing you there!
-Jeanne Schniedewind, Program and Publicity Coordinator, Center for 17th- & 18th-Century Studies