Published: May 17, 2023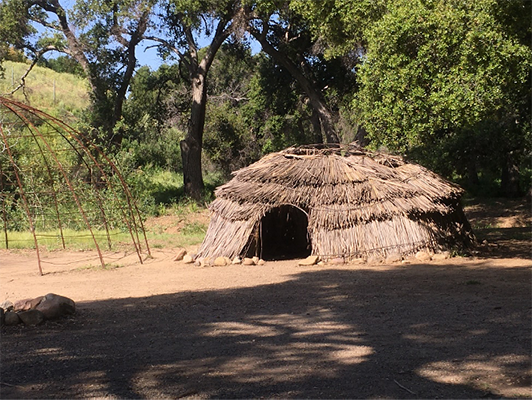 On April 14-15, 2023, the William Andrews Clark Memorial Library hosted the third and final session of the 2022-2023 Center & Clark Core.   This session's theme was "Imperialism," and speakers explored histories of ephemeral architecture in the Americas as forms of Indigenous and African Diasporic survival and resistance. Continuing from the Core Program's previous two sessions, this conference also incorporated new studies of ephemerality and architecture from pre-European colonial contexts.
Ten speakers gave talks that wove together the transcontinental presence of ephemeral architecture across the Americas, with discussions ranging from the ongoing ecological effects of Mississippi Delta Indigenous mound sites to Black landscapes of fugitivity in the Ecuadorian Andes.
These talks included Cheryl White's discussion of African Diasporic reimaginations of Amazonian built environments in Suriname, Alice Samson's exploration of Indigenous architectural ephemerality as expressed by postholes in the Caribbean, and Lorena Tezanos Toral's study of architecture and African resistance in colonial Cuba. Shannon Speed (Director of the UCLA American Indian Studies Center) held a joint session with Everett Osceola (Cultural Ambassador for the Seminole Tribe of Florida) that examined traditional Seminole chickee construction and use. The conference ended with a presentation by Dell Upton, who gave a unifying speech on the overarching theme of ephemerality in architecture.
On Saturday, April 15, the third workshop of The Forgotten Canopy conference took place at the Chumash Indian Museum in Thousand Oaks. Here, Chumash Cultural Educator and traditional storyteller, Alan Salazar, gave a guided tour of a historical Chumash village site. Among other topics, he discussed ways of building and preserving traditional Chumash aps houses. His presentation provided a fitting coda to the year-long project of The Forgotten Canopy conference series. We thank all speakers, attendees, and organizers for their thought-provoking discussions and dedication to exploring histories of architecture and ephemerality in the Americas.
For more information, please visit https://theforgottencanopy.create.fsu.edu/ or follow @theforgottencanopy on Instagram.
-Gabriel Silva Collins, PhD Student, UCLA Cotsen Institute
---
Image text: A traditional Chumash "aps" home served as the backdrop to conversations at the Chumash Indian Museum in Thousand Oaks. Photo Courtesy of Gabriel Silva Collins