Published: July 14, 2022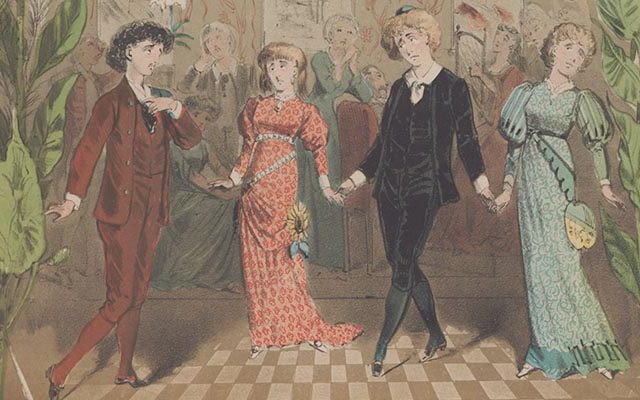 Flowers are a common feature of nineteenth-century caricatures of Oscar Wilde and his circle.  As part of her postdoctoral fellowship with the Clark's core program "Victorian Apocalypse: The siècle at its fin," Dr. Lindsay Wells examines the floral imagery of the British aesthetic movement from a horticultural perspective.
At first glance, the sheet music cover for W.G. Eaton's "Utterly Utter Quadrille" (1881)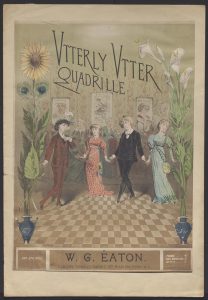 seemingly does little more than poke fun at the tropes and trends of British aestheticism—a late-nineteenth-century movement in art and literature that embraced the concept of art for art's sake.  Set in a theater lobby adorned with posters of Oscar Wilde, Dante Gabriel Rossetti, and James McNeill Whistler, this colorful lithograph parodies the popular culture of aestheticism alongside its most famous participants.  At the center of the composition stands a group of youths in fashionable aesthetic garb—the women dressed in loose patterned gowns and the men in stockings with matching knee-breeches.  With their languid poses and glazed expressions, these figures recall the caricatures of mawkish aesthetes fawning over blue china and painted fans that had graced the pages of Punch magazine since 1870s.  Along the margins of this satirical scene, we encounter two large potted plants: a sunflower on the left and a cluster of calla lilies on the right.  Over the course of the nineteenth century, these two plants became familiar floral emblems of the British aesthetic movement, appearing in everything from humorous cartoons and prints to the paintings, wallpapers, drawings, and ceramics that initially popularized the movement in the Victorian art world.  Native to North American and southern Africa, respectively, the sunflower (Helianthus annuus) and calla lily (Zantedeschia aethiopica) speak to larger networks of colonial travel, trade, and politics that shaped the art of art for art's sake.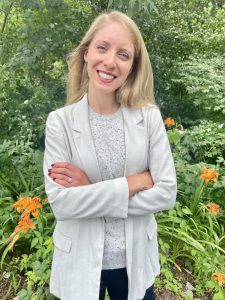 My postdoctoral research at the Clark Library has concentrated on recovering the horticultural history of ornamental plants in nineteenth-century British art in order to disclose the close ties between aesthetic visual culture and imperial plant hunting.  As I argue in my current book project, "Evergreen Empire: The Horticultural Politics of British Painting, 1848-1910," the plants we encounter in works of aesthetic art played an important role in reinforcing larger narratives of the period about empire, race, and the natural world.  During my fellowship, I focused on the Clark's large collection of caricatures related to Oscar Wilde and his circle. This is an invaluable resource for assessing not only how sunflowers and calla lilies were used to satirize different elements of aesthetic culture, but also how botanical imagery more broadly considered mediates our perception of art's political subtexts.
by Lindsay Wells, University of Wisconsin-Madison, Ahmanson-Getty Postdoctoral Fellow 2021–22
Images:
W.G. Eaton, "Utterly Utter Quadrille," 1881, colored lithograph, 35 x 25.5 cm, William Andrews Clark Memorial Library, MS.Wildeiana [box 22, folder 11].
Lindsay Wells.