Published: November 8, 2022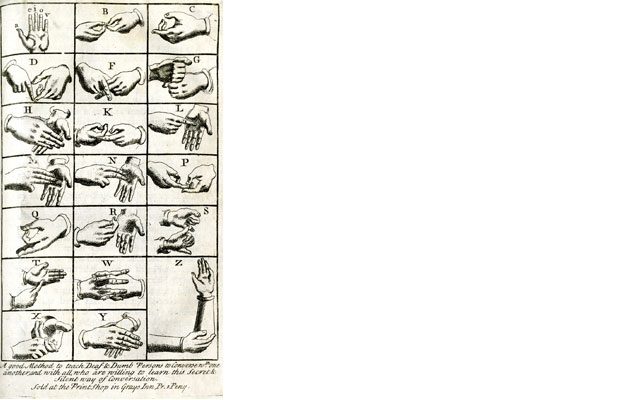 At the recent conference "Archive and Theory: The Future of Anglo-American Early Modern Disability Studies," Dr. Megan Peiser and Emily D. Spunaugle (Oakland Univesity, Rochester, MI) presented their collaborative research on the Marguerite Hicks Collection, which consists of books and pamphlets by and about British women writers from the 17–19th centuries. Their presentation, "The Marguerite Hicks Collection: Disability, Collection Building, and the Politics of Care," investigates the relationship and collecting practices of Hicks, a queer, widowed, blind Detroiter and her partner, Thelma James, as they amassed the collection in the late 1930s.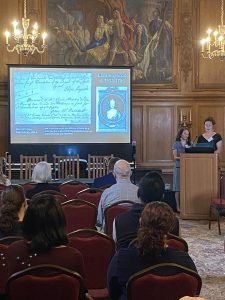 Peiser and Spunaugle's presentation at the Clark Library had a second purpose—to visit the 1742 holograph receipt acknowledging Eliza Haywood's translation work on The Sofa, which has been missing from the Hicks Collection since the early 1980s, and is now held at the Clark Library. With another librarian from Oakland U, Molly McGuire, Spunaugle is collaborating with Clark librarians Anna Chen, Rebecca Fenning-Marschall, and Nina Schneider to plan a virtual conference to celebrate the find and interrogate questions of theft, repatriation, deaccessioning, and endangered archives. The conference, titled "Item not Found: Accounting for Loss in Libraries, Archives and Other Heritage and Memory Institutions," will be held March 8–9, 2023, 12-4 pm ET with guest speakers Tamar Evangelestia-Dougherty, Director of Smithsonian Libraries and Archives; T-Kay Sangwand, Librarian for Digital Collection Development at UCLA; and Gabriel Solís, Executive Director of the Texas After Violence Project.
–Emily Spunaugle